Gas Silk Saree (KTB-4441)
Fast Shipping
Receive products in amazing time
Easy Returns
Return policy that lets you shop at ease

Authentic Product
We only sell 100% authentic products
Secure Shopping
Your data is always protected
Discount
Exiting discount offer
Description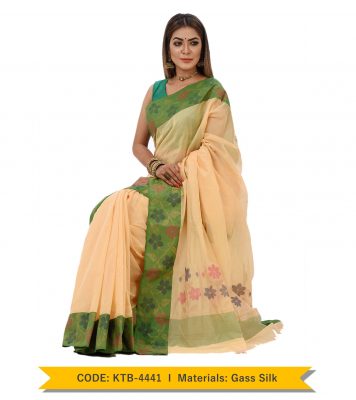 Product Type: Saree
Main Material: Gas Silk Saree
Gender: Women
Size: 13.5 Haat with blouse Piec
Very comfortable to use in any weather
Delivery Method :
Delivery charge inside Tangail city 20 Taka
Delivery charge outside Dhaka 100 Taka
Home delivery charge 200 Taka
Payment Method :
Mobile banking
Direct bank transfer
Cash on Delivery
Delivery Options
We have courier pickup delivery service in whole country. We also have home delivery service.
Payment Options
We have tree payment options. Direct bank transfer, Mobile banking, Cash on delivery.
Free Returns
We have easy return service. If you face any fault in our products then you can return it without any service charge!